It All Began With This Yellow Barn!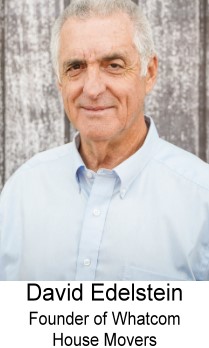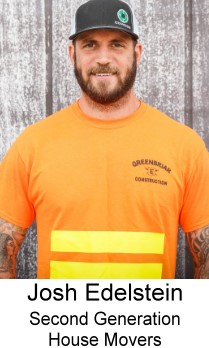 In 1979 David Edelstein and his family moved from Long Island, New York to a 20 acre farm located on the outskirts of Bellingham, Washington. David established Greenbriar Construction and envisioned locating the company's offices on the farm close to his family. After 3 years in Bellingham, the self-confessed lover of machinery – anything on tires, tracks or wheels - decided to venture into the house moving business.
David located a former Bellingham house mover in Wenatchee, bought all the man's gear, loaded it onto his 1947 Sterling truck called the green monster and headed back to Bellingham. The man broke down in a fit of laughter thinking he'd just sold his equipment to a sucker. Even though David's years of construction experience provided a foundation of knowledge, he decided he had to learn the various aspects of house moving before marketing this new business. As it turned out, his first house moving job was raising the barn on his property.

The barn, which was built in the early 1950's, was built to suit a farmer not a construction business. David began by devising a plan and new design for the barn. The small run down wing located on the side of the barn was demolished in preparation for raising it. The main section of the barn was then raised 5 feet, to allow for new walls to be framed in, providing a 10 foot ceiling height in the lower end. As well as framing in new walls underneath the existing building, an additional wing was built to serve as the main equipment shop for Greenbriar Construction. The original short pitched roof was taken down and a new roof was framed in. This new high roof height allowed there to be an additional story built inside the barn. The barn was then re-sided, re-roofed and painted! After completion, this barn became the home for Greenbriar Construction and Whatcom House Movers, the same year David's youngest son, Josh, was born.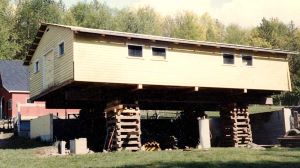 From the time Josh could walk, he has been immersed in the construction industry. Like his father, Josh fell in love with house moving at an early age and would often ride in the seat next to David during house moves. With age came opportunities for Josh to join the Whatcom House Movers crew doing such jobs as following behind the houses pulling out 'no parking' signs. Every summer Josh would work for Greenbriar Construction and Whatcom House Movers, learning and acquiring more knowledge about the house moving and construction profession.
After high school graduation, Josh decided to focus his college education in the construction industry and enrolled in the construction engineering program at California State University Long Beach. After graduation from college, he made the decision to return to Bellingham and work with his father. Josh has taken all the practical experience and education he has learned throughout his life and is now applying them to every project Whatcom House Movers is involved in.

Today, David along with his son, Josh, and the Whatcom House Mover's team continue to utilize their 30 years of knowledge and experience to make them among the leaders in house moving and house raising in the Pacific Northwest.